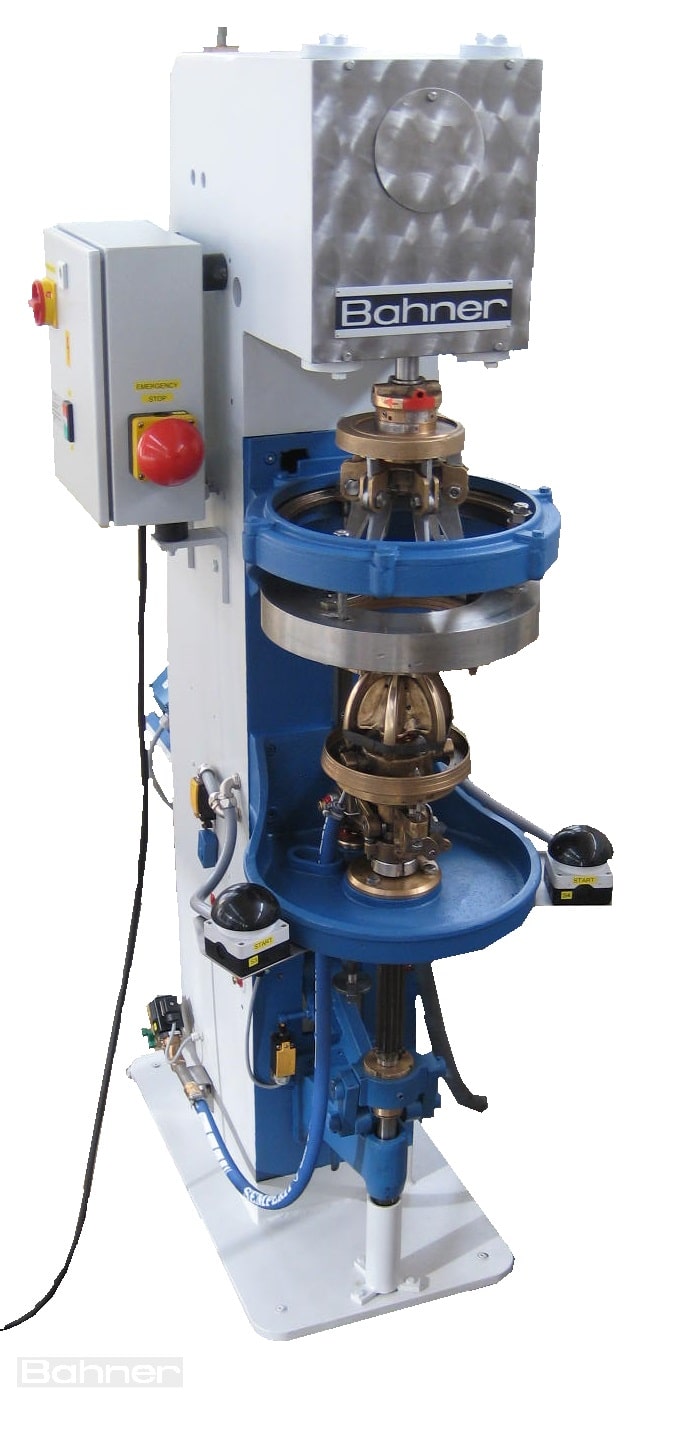 Highlights of the Automatic Tip Stretching Machine For Hat Bodies
with
automatic steam valve
automatic axial rotation of the body
wide range adjustable crown size
with 3 pairs of conical moving rings
Description of the Automatic Tip Stretching Machine For Hat Bodies
Hat bodies are made for reasons of production, in conical shape. The top radius of the cone is smaller or bigger, but in most cases too small for standard heads of different sizes. Therefore, the hat bodies are stretched in the top.
This operation is perfectly done by the Automatic Tip Stretching Machine Type 3-227. The upper crown is moving vertically up and down with high frequency. The 6 stretching fingers of the lower crown can be adjusted tall and wide. The upper crown can be adjusted vertically by approx. 15 mms.
During the operation cycle, the lower crown is lifted vertically upwards to the upper crown. During the first third of the tip stretching cycle the lower crown lifts another 10 mms upwards and remains in its final working position during the rest of the cycle. By a special system the crown expands during the tip stretching cycle. The 6 stretching fingers of the lower crown are expanded radially outwards.
After finishing the tip stretching cycle, the lower crown removes into the start position and start size. The size of the lower crown can be adjusted easily and quickly. During the whole tip stretching cycle, the body turns continually by a conical pair of rings, which are mounted into the machine. An automatic steam valve provides the body with steam through the whole cycle and keeps it stretchable. Three working speeds – depending on the material – assure a short working interval (8, 10 or 12 seconds) and thus a high output.
After setting the body on the lower crown the machine is switched on with a two-hand power switch for security reasons. The machine closes, the steam valve opens the steam and the tip stretching cycle begins. Close before the end of the cycle, the lower crown goes downwards and opens the machine. After the cycle, an end switch stops the electric brake motor and finishes the cycle. The upper crown, driven by a second electric motor, remains running up and down.
…
Read more – Data sheet: English
Availability
New | Used Machines Reconditioned * | Used Machines *
* If there is no clickable link, there is no offer. "New" is always available for order.

Image Galery
(New Machine)