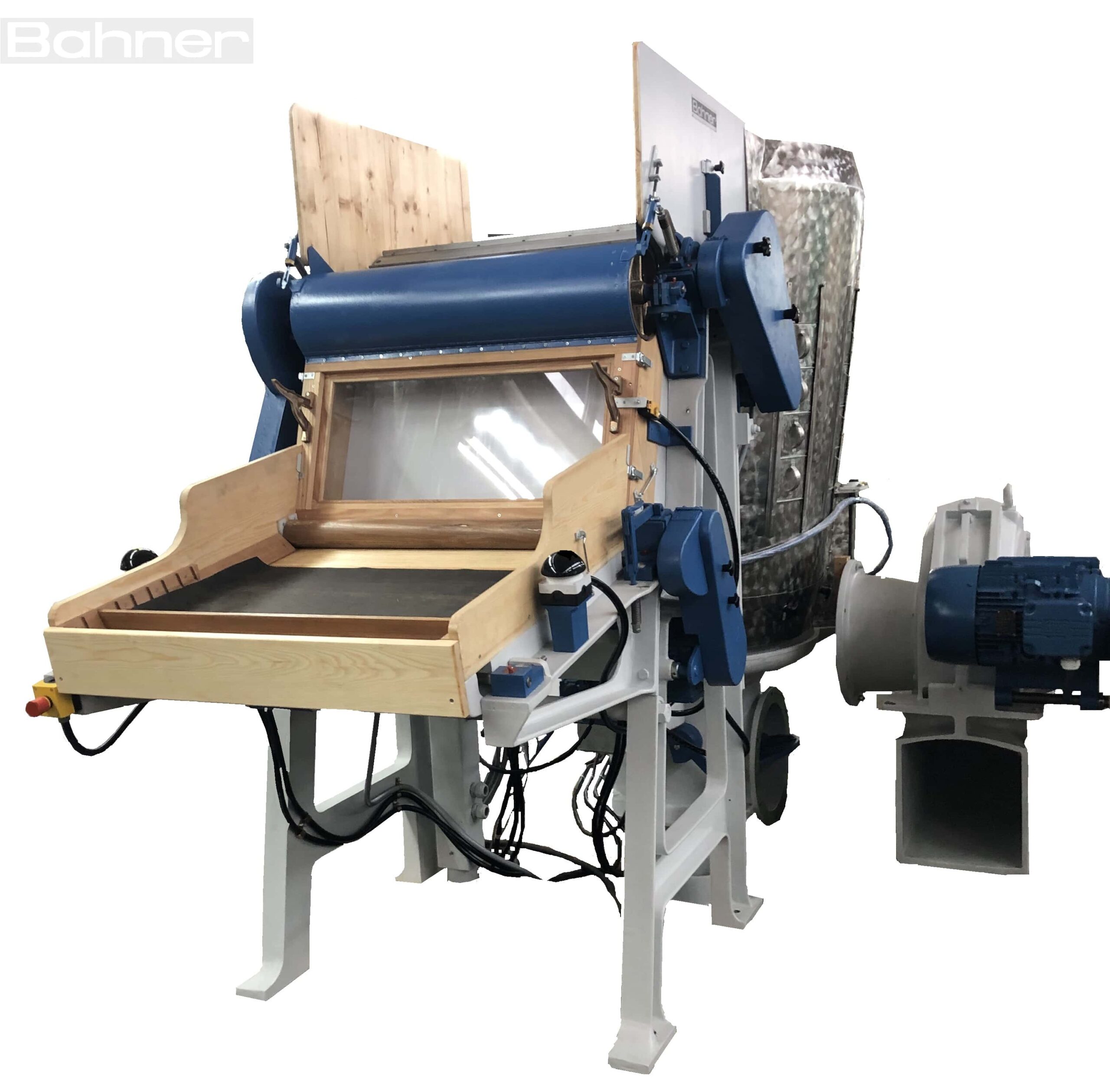 Description of the Automatic Forming Machine
When designing this machine, we started from the pre-condition that it is of outmost importance for the user to receive a forming machine of high capacity, at a reasonable price. The subjectivity to repairs is very slight in spite of the extraordinarily bad environmental conditions under which this machine has to perform. Technical improvements were made only, where they were really useful and economical.
The outstanding attributes of our automatic large forming machine are is sturdy construction and excellent design. It is delivered completely ready for operation, with the script support built on, with lower part of the forming casing, and with exhaustor installed. The spraying mechanism is wind roller, and one feeder. The long feeding table is omitted. The machine spreads the hair very finely. The hair stuff flies on the forming cone evenly and lossened up. Thus, it can be fed stronger: the machine becomes more productive.
The forming casing is welded of rustand acid-resistant steel sheet and is heated with steam – even on the doors. Thus, the inside of the casing does not get wet during spraying. If the forming department is climatized normally, electrical heating sticks can be omitted.
A flap installed in the forming casing – immediately in Front of the exhaustor – automatically closes the suction during exchange of the forming cones. This means an essential saving in strength.
The machine is driven by electric motors, for at all 6 motors, for
the exhaustor
the upper picker roller and the wind roller
the lower picker roller
the gear ( installed vertically, driving over V-belt and pinion), and
the feeding table, the draw-in rollers, and the wire sieve rollers (gear motor)
(the spraying valve)
Through this arrangement it is possible to have the individual drive groups start separately, over the switch box standing beside the machine.
As the flat belts are omitted, the rotating masses in the script support trestle are essentially decreased. The surrounding air is calmer This design simplifies the operation of the machine considerably.
Switching devices permit the person who does the feeding as well as the one who does the forming, to start the machine and to stop it.
The fine flight of the hair stuff achieved through the extraordinarily precise construction of the machine, is bringing forms of good quality, what proves to be very advantageous during further processing.
…
Read more – Data Sheet: English | Español | Deutsch
Availability
New | Used Machines Reconditioned * | Used Machines *
Additionally currently in stock:
Forming Bells (212), used, reconditioned
* If there is no clickable link, there is no offer. "New" is always available for order.

Image Galery
(New Machine)