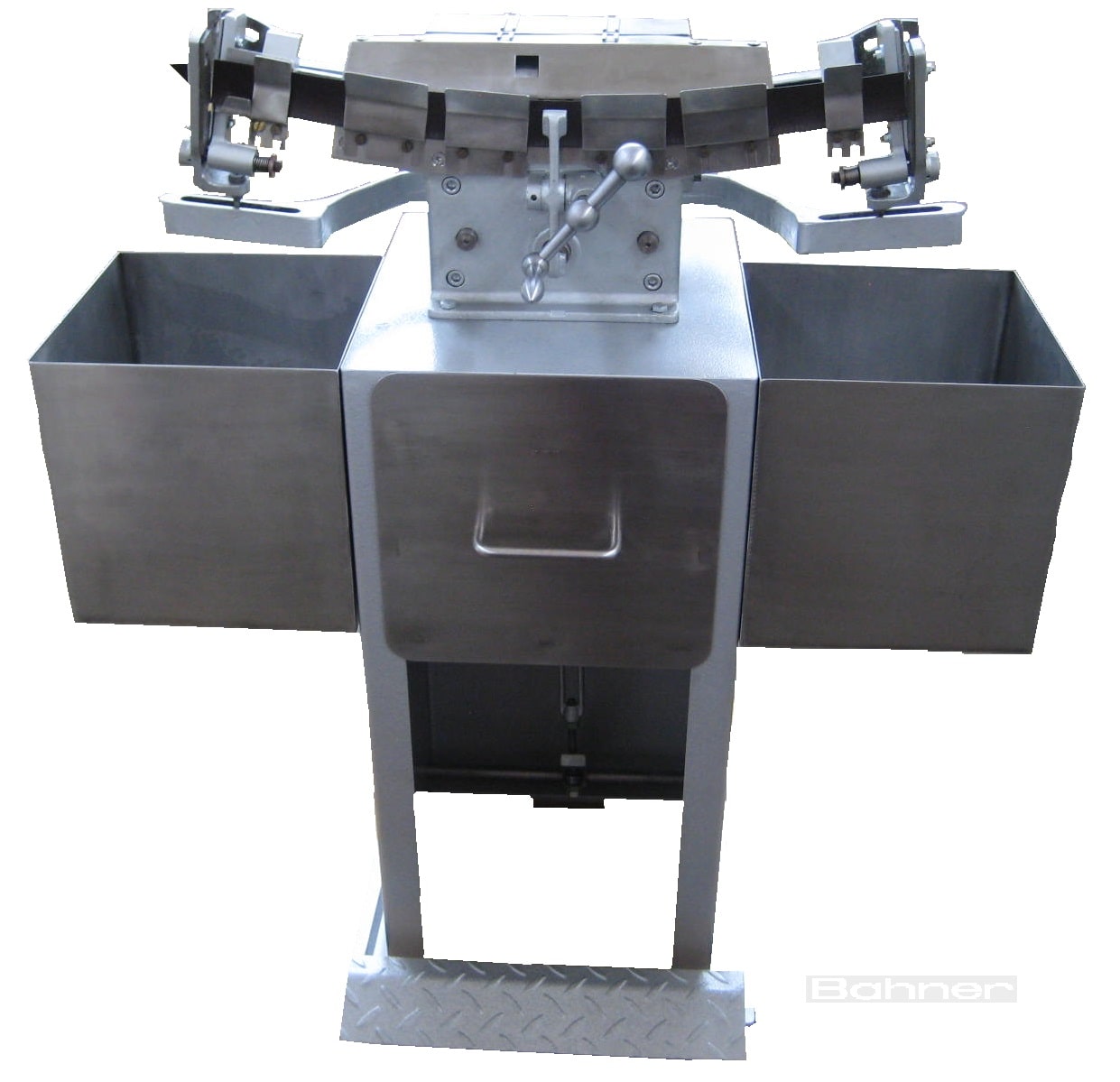 Description of the Leather Cutter
Hat manufactorers, hat and cap makers receive their sweat leather bands primarily in a cut basic form from the leather factory. They have, however, the same length and must be adjusted to the width of the hats respectively head gears by cutting the ends accordingly. This work is primarily done by hand by inserting one leather into the hat and marking the area which has to be cut with needle points. With hand scissors the leather is then being cut. No uniformity can be achieved this way. Primarily it is practically impossible to cut the leather to the absolutely required length, meaning the required width of the head gear.
Machines are known which take care of this cutting of the leather ends mechanically with sciccors or knives, but these machines are usually only usable for a given leather size. Since the various head gears have varying widths the leather cuts must be adjustable allowing them to fit properly into the hat. If this is not the case, the leather has wrinkles or deformations. For conical hat forms one must use strongly arched leather whereas for cylindrical hat forms less arched leathers are required. For a proper fit of the leather within the hat, it is important at what angle the cuts on the leather ends are made. The angle of this cut results automatically when adjusting by hand, but is always different with varying hat forms. It is, therefore, for a cutting machine important that this angle can be adjusted exactly.
This is the case with the offered machine.
The machine allows, furthermore, a quick cutting with maximum economy of the working process. With all known machines, the leather must first be laid on a horizontal plane and the position is marked through markings or pin points. This is, however, complicated and takes much time.
With the offered machine for cutting leather bands the following conditions are fulfilled:
…
Read more – Data sheet: English
Availability
New | Used Machines Reconditioned * | Used Machines *
* If there is no clickable link, there is no offer. "New" is always available for order.
Image Galery
(New Machine)