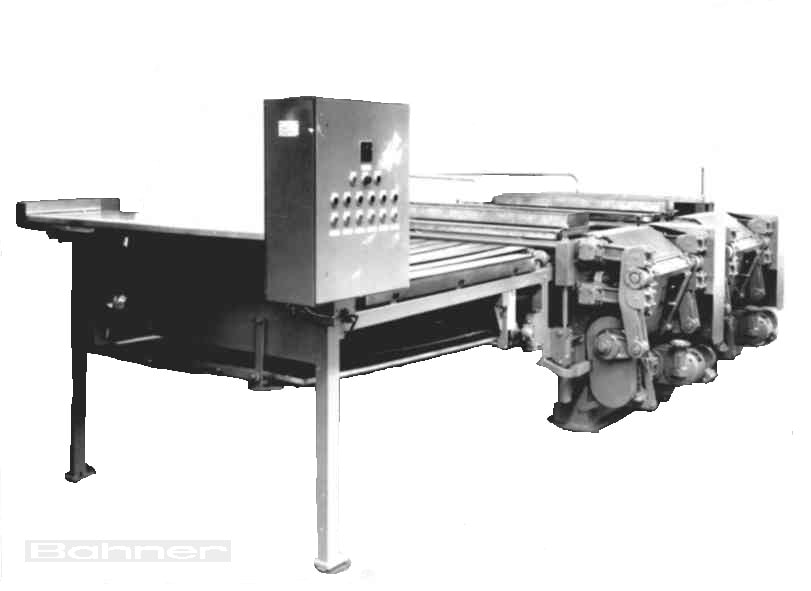 Highlights of the Pre Fulling Machine, Multiroller
with
2 lines of rollers
Feed Table – First Fulling Machine
Transfer Table – Second Fulling Machine
Outlet- and Reverse Run
Centrifugal Pump with Water Container and Water Guiding Sheets
Automatic Reverse Run Device for the hat bodies
Universal for Settling and Middle Fulling (Final Fulling as well). Best Fulling results – Greatest Economy.
Description of the Pre Fulling Machine, Multiroller
There are many possibilities for achieving the highest number of favourable fulling results. Through careful consideration of the present state of technics and the latest ideas in the fulling department, we have chosen those which are the most effective. Fulling speed, fulling quality, and simplicity of mechanical operation are harmoniously matched with each other and assure highest rentability.
The Pre-Fulling Machine VW 216 has 2 machines of 13 working rollers each, connected via a transfer table, 26 working rollers all together. The working rollers of the upper row of rollers as well as the lower one oscillates on aces – that means they jig. These rollers jigging in opposite directions can work hat bodies which have been fed in evenly placed lines on their lower surface as well as on their upper one. You can also stop the axial jigging (the oscillation) of the rollers if desired e.g. with the first passages. Thus, the demands which are absolutely essential for producing hat bodies of uniform appearance and hight quality.
When starting the fulling it is extremely important to supply the felt hat bodies with sufficient fulling liquid or in stretchable / shrinkable condition, i.e. wet and hot. Hat bodies which are supplied evenly with fulling liquid, shrink together much better and the result is of a higher quality. You can always supply the fulling band with sufficient fulling liquid as the working rollers are arranged in two lines.
The lower line of rollers and the upper one oscillates independently. The frequency of the oscillation can be adjusted by a Frequency controller. Three kinds of frequency are adjustable: slow, middle, high speed. By adjusting the excentric the amplitude of the oscillation (the length of the jigging distance) can be adjusted. …
Read more – Data sheet: English | Español | Deutsch
Availability
New | Used Machines Reconditioned * | Used Machines *
* If there is no clickable link, there is no offer. "New" is always available for order.

Image Galery
(New Machine)