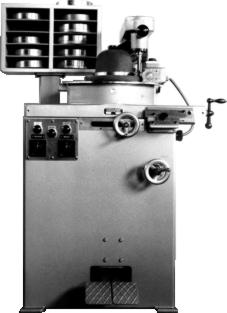 Description of the Rounding Machine / Brim rolling Machine
For exactly cutting the brims of gentlemen´s hats and hat bodies, we offer a Universal Paring and Rounding Machine.
One model of the machine can be modified into the other model by exchanging the front part, bearing a plate when cutting the brims of gentlemen´s hats, against a front part having a cone put on top.
General Design
This simple and sturdy brim paring and rounding machine has two strong geared cutting knifes "SM", which pare the brim of the hat excellentry.
The upper paring knife is axially tensioned and presses with adequate pressure against the lower paring knife, thereby at all times guaranteeing perfect paring. The rubber pilot ring "GVR" transports the hat or the hat body continously.
With the model for paring the brims of gentlemen´s hats the exchangeable frontpart "VT" carries a round plate "T", on which the hat is put. The movable touching slider "ALB" can be adjusted to width by opening the screwable button "KS" and pulling the bow out to the left. A scale cut in shows the desired width.
If you want to pare the brims of hat bodies, please open the Screw "S" and pull out the frontpart towards the front. It s exchanged by a taking-up unit "VTS" which at the front carries an adjustable and exchangeable Cone "K". Design, arrangement, and working method are the same for both models of the machine.
Normally, the machines are driven with the aid of a gear motor "GM" over a coupling "K". A motor protection switch "M" installed enables the motor to be switched on and off and protects the gear motor from being overloaded.
Brim Paring Rings
We, normally, deliver, if not desired otherwise by the buyer, brim paring rings "RSN" made of heavy metal, together with the machine. They are all around worked out 10 mm wide. That means, the brims of the hats are pared evenly wide on all sides. The brim, getting wider with rising sizes of hats, has to be equalized out with the aid of the touching slider.
…
Read more – Data sheet: English
Availability
New | Used Machines Reconditioned * | Used Machines *
* If there is no clickable link, there is no offer. "New" is always available for order.

Image Galery
(New Machine)