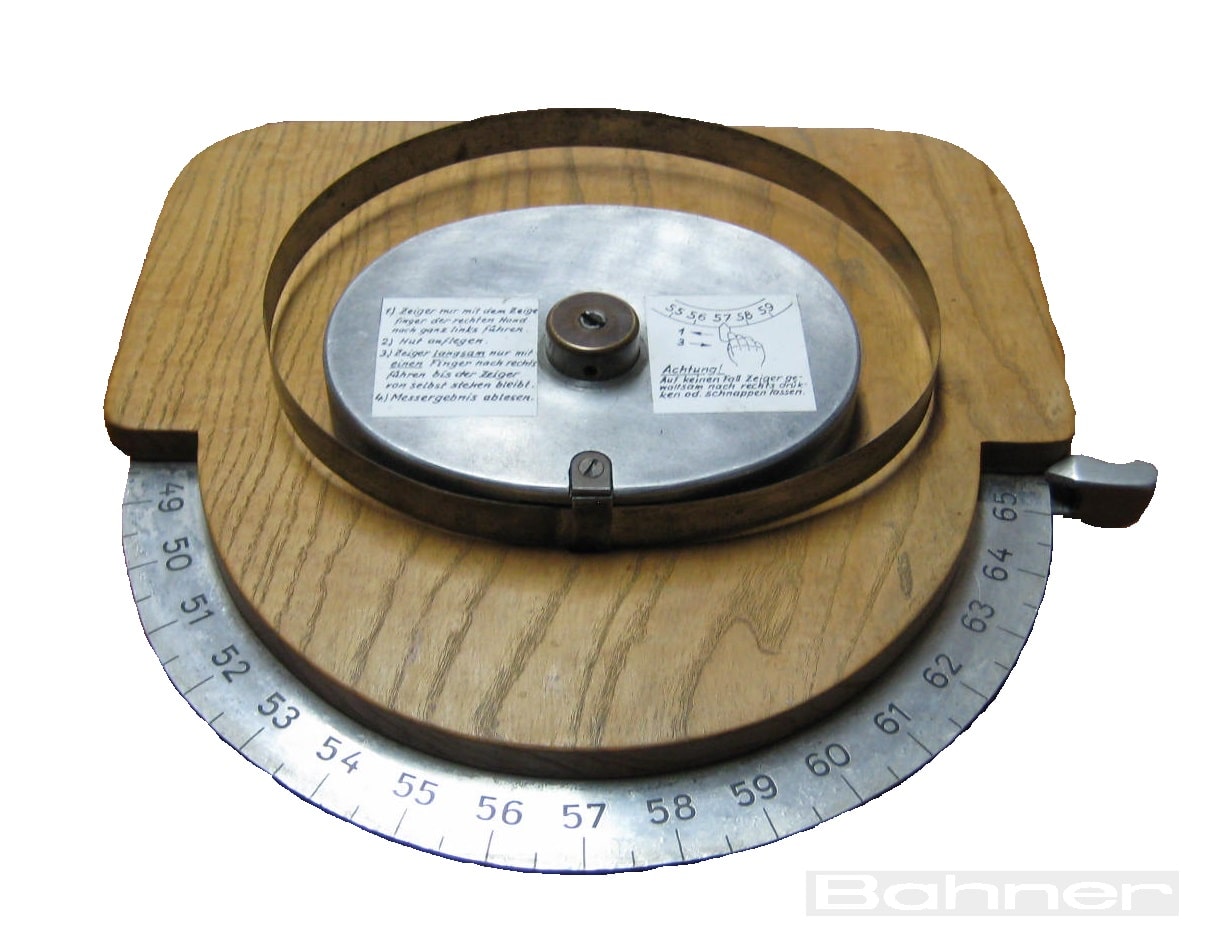 Description of the Head Width Measuring Unit
This is one from practical experience developed instrument for measuring the width of head gear.
When manufacturing and selling hats, caps, and other head wear, it is necessary to measure the head width whereby under head width the inside circumference of the head oval is understood expressed in centimeters or any other measuring unit.
Most of the time, the head form of a hat or any other head gear is not cylindrical at it´s band, but especially with men´s hats the brim runs conical toward the top. The sweat band is cut accordingly. The circumference on the lower end of the brim is, therefore, larger than on the upper end. When measuring the head width, it is, therefore, important to establish at which place in effect at which distance from the lower edge of the leather respectively from the brim the measurement must be made. Furthermore, each head gear made of felt on caps or other head. The measurement is, therefore, also dependent on how strong the head oval is being stretched during the measuring process. If the measurements must be comparable, exact, and equal during each measurement, the control place as well as the stretch must be equal.
With most popular measuring instrument, it is impossible to get comparative objective measuring results since it is left to the measuring person to determine the place of measurement or the stretch (on very simple control instruments both). Especially during production, but also in sales´ work it is of utmost importance to be able and make the measurements quickly. The result must be sufficiently exact and readable from a scale. On specific width which adjusts easily to any given head oval is used for measurements whereby the length of circumference can be adjusted. The band is being pressed against the hat brim by a constant force acting on a tangent plane to the circumference and, therefore, remaining always under the same tension when being pressed against the hat brim.
…
Read more – Data sheet: English
Availability
New | Used Machines Reconditioned * | Used Machines *
* If there is no clickable link, there is no offer. "New" is always available for order.
Image Galery
(New Machine)