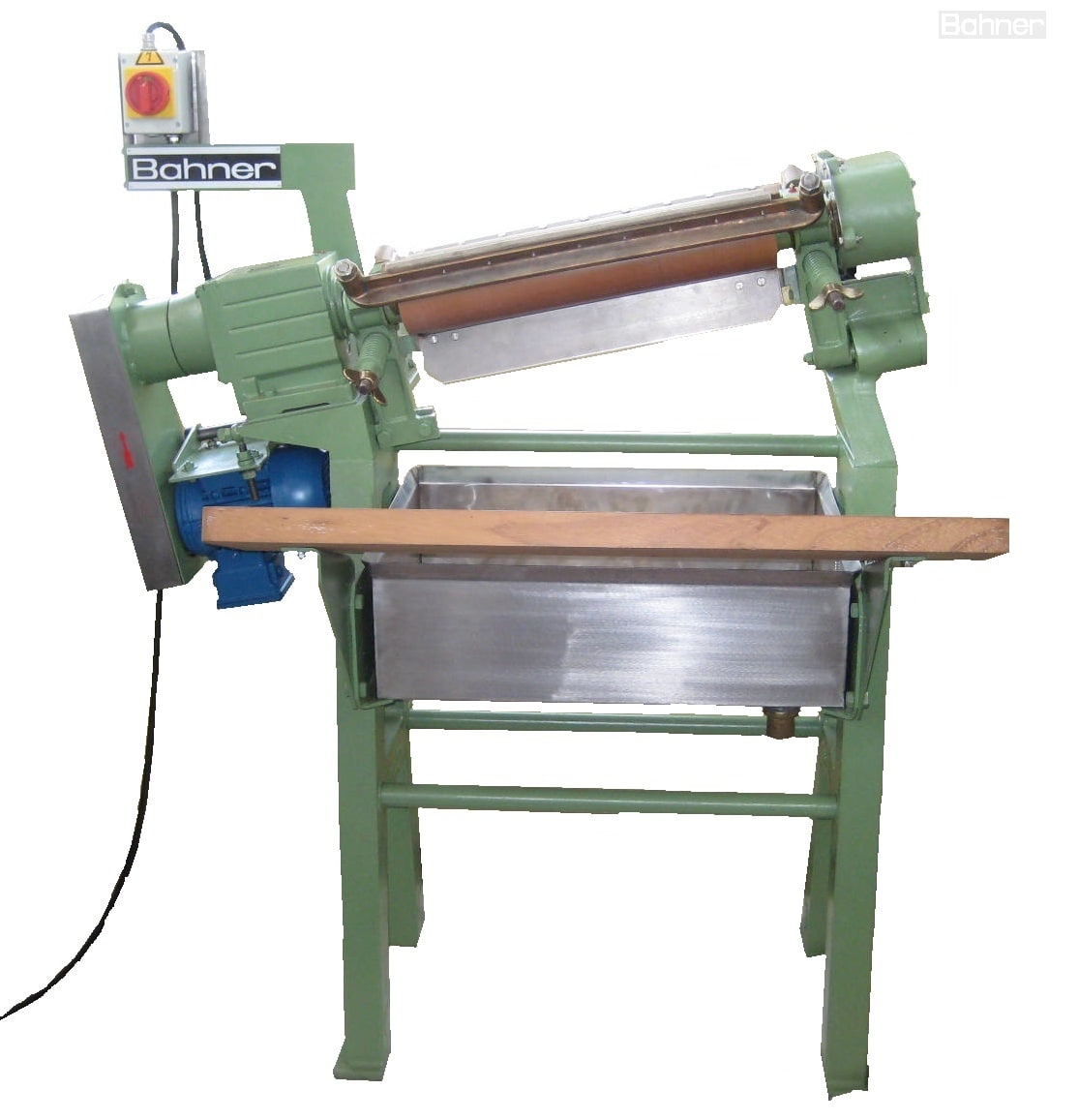 Description of the Cylinder stiffening machine, roller stiffening machine, appretizing machine
The simple machine has been constructed solidly and efficiently. It is still used today for different operations. We basically deliver two types of design, on request:
– with the stiffening cylinders arranged horizontally. This model is the most popular.
– with the stiffening cylinders arranged slantingly.
This machine has been re-designed according to the latest points of view.
It basically consists of a grey cast iron frame, which takes up the cylinders. A gear motor drives the backward cylinder. The front cylinder is borne in mouth-shaped slide bearings and is driven over double front-toothed wheels made of synthetics. This arrangement guarantees permanent operation without any complaints, does not require any maintenance and is operation- and accident-proof. The machine is very silent.
The cylinders are pressed together by adjustable spiral springs (at especially large pressure also by two plate spring packages, too) and thus receive always the correct pressure required for squeezing out the stiffening liquid.
The strippers are radially re-adjustable. They are not only stripping off the stiffening material correctly, but drain it off to the sides. This way the stiffening material, while dripping off cannot hit the hands of the operator. The front cylinder can be made free by loosening the two front wing nuts and, then, taken out easily and cleaned without any difficulty.
Appretizing Cylinders
The Cylinders of the appretizing machine can be designed as follows:
– Both cylinders are provided with rubber set. This is the design most commonly used. The rubber set takes up operation uncorrections and causes only few stiffening strips. The rubber set, however, wears off after a certain time and has to be renewed.
– Both rollers are consisting of rust- and acid-resistant steel piping. In order to avoid, as much as possible, any stiffening strips, these rollers are, at their ends, reinforced for 10 mm in a way that on almost their entire operation width a free approx. 2 mm wide slot is resulting. With this design of the cylinders, the rollers are pressed together more than with the rubber set. It, therefore, is suitable, in this case, to choose plate spring packages for the pressing-on of the cylinders.
…
Read more – Data sheet: English
Availability
New | Used Machines Reconditioned * | Used Machines *
* If there is no clickable link, there is no offer. "New" is always available for order.

Image Galery
(New Machine)