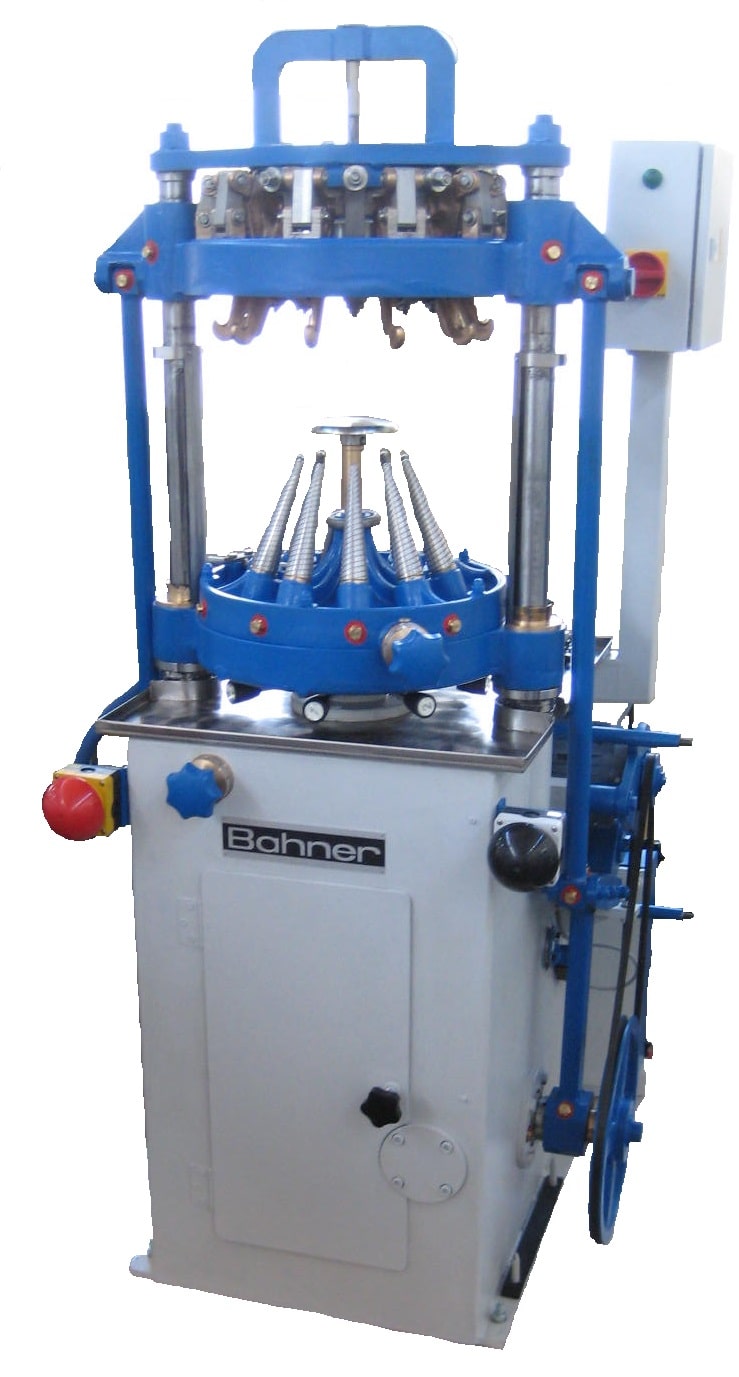 Description of the Automatic Brim-Breaking Machine, Brimbreaking Machine
After the hat body on the Automatic Tip Stretching Machine Type 3.227 is tipstretched, the Brim on the Brim Breaking Machine Type 228 is stretched. Afterwards the so performed hat bodies can become on the Blocking Machine for head and brim Type 5-230 ready-formed, called table flat Capeline.
The hat bodies is put on in drawability state on 10 cone roles of the vertically adjustable cone plate. By pressing the right switch it is initiated stretching. The cone plate goes vertically upwards and presses the hat bodies against the upper stretching finger. The stretching fingers stretch the hat brim about the rotation cone and expand them. An other vertically upwards directed slow positioning shaft movement causes the brim is continuously stretched. Between the stretching fingers to arranged roles prevent movement the hat body during the stretching operation.
The margin width is adjustable to 140 mm, resulting a strech of approx. 14 cm brim. The head height and the head size can become regulated. The stretching fingers can be adjusted:
– height
– position.
During the stretching the hat body becomes and keeps stretchable of steam.
The machine is started is by a push bottom. At the end of the automatic working cycle the machine automatically stops in start position.
Three operating speeds can be chosen with 15, 18 and 26 seconds. The machine is driven with the help of 2 electric motors. The output capacity is between 900 an 1400 hat bodies in 8 hour shift. A worker can serve 2 Brim Breaking machines or one Automatic Tip Stretching machine and one Brim Breaking machine.
…
Read more – Data sheet: English | Deutsch
Availability
New | Used Machines Reconditioned * | Used Machines *
* If there is no clickable link, there is no offer. "New" is always available for order.

Image Galery
(New Machine)