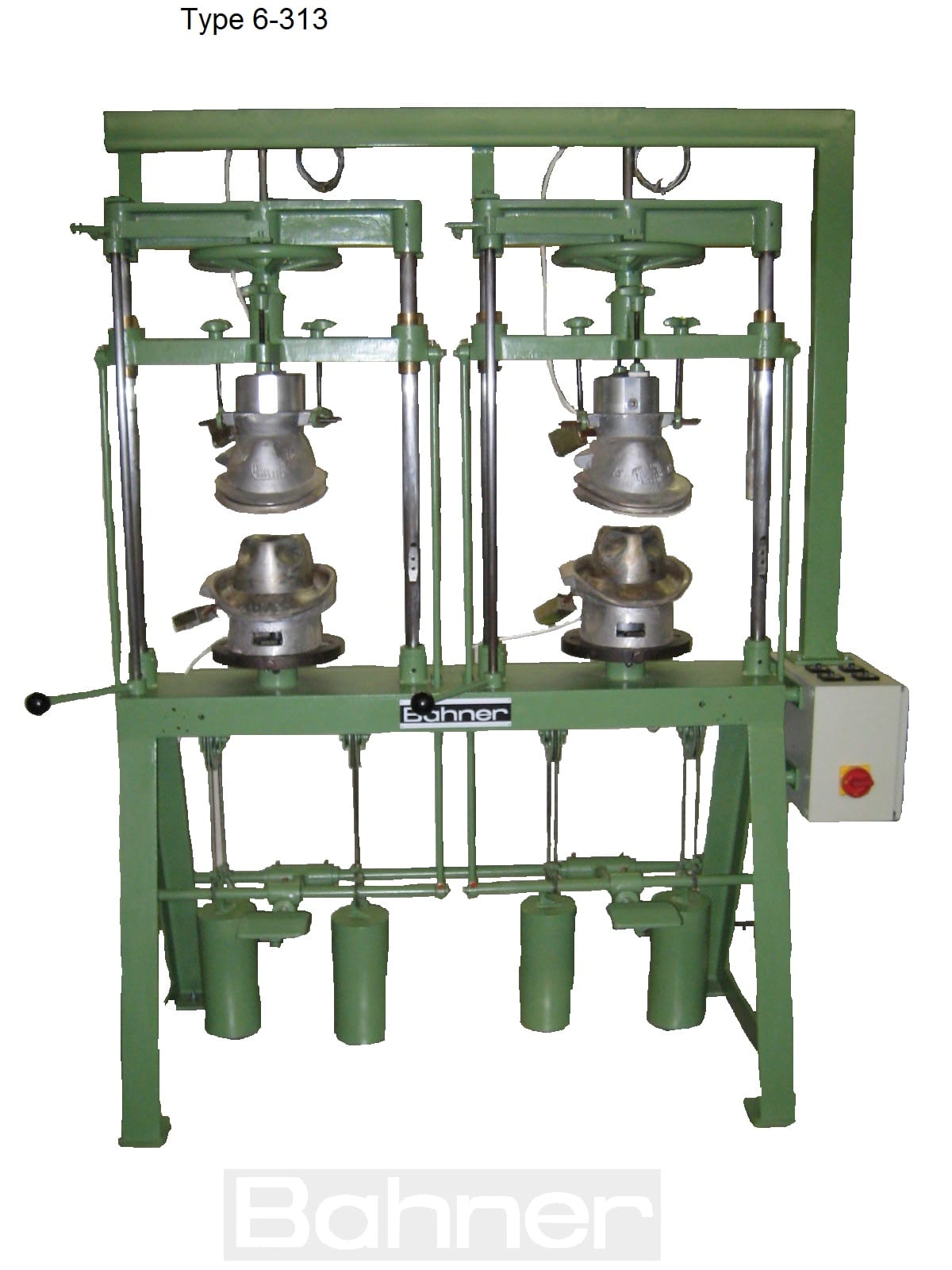 Description of the Pedal press
The pedal press is primarily used for blocking ladies` and gentlemen`s hats (also carnival`s hats) on aluminum moulds which are specially equipped, and which are heated electrically.
The design has been kept simple, on purpose. On a lower frame, the individual press units are mounted on. The press moulds are heated with electric. The lower part of the mould is normally fixed mounted. However, it can also – for easier manipulation – be moved out towards the front. For this purpose, the lower taking-up unit has to be specially equipped.
The upper part of the press mould is moved in downwards by way of foot pedal, and with the hand wheel for fine adjustment is pressed on the hat body which has been put on the lower part of the press mould. Too strong a pressure will produce press marks on the hat body, which cannot be removed again.
All parts and mechanisms are arranged in such a way that they will guarantee uncomplained permanent performance. The moveable machine parts are running slide bearings.
The image above and the images in the Image Galery below show the pedal press, 2-units, upper part working from the top downwards, taking-up unit for the lower mould moved out towards the front.
Heating: Electrically
If you wish the moulds to be heated electrically, the machine, normally, is delivered with a electric cabinet, plugs and sockets and 4 controllers to control heat on every position of machine, ready for operation. Connection is 380 V / 50 Hz or 220 V / 60 Hz.
Machine will have following characteristics
Electric cabinet, with security switch, Heat control system, which shows set value and the actual value of every position; incl. Thermostat.
On a 2 working unit machine this would be:
Left working place upper mould
Left working place lower mould
Right working place upper mould
Right working place lower mould.
…
Read more – Data sheet: English | Deutsch
Availability
New | Used Machines Reconditioned * | Used Machines *
* If there is no clickable link, there is no offer. "New" is always available for order.

Image Galery
(New Machine)