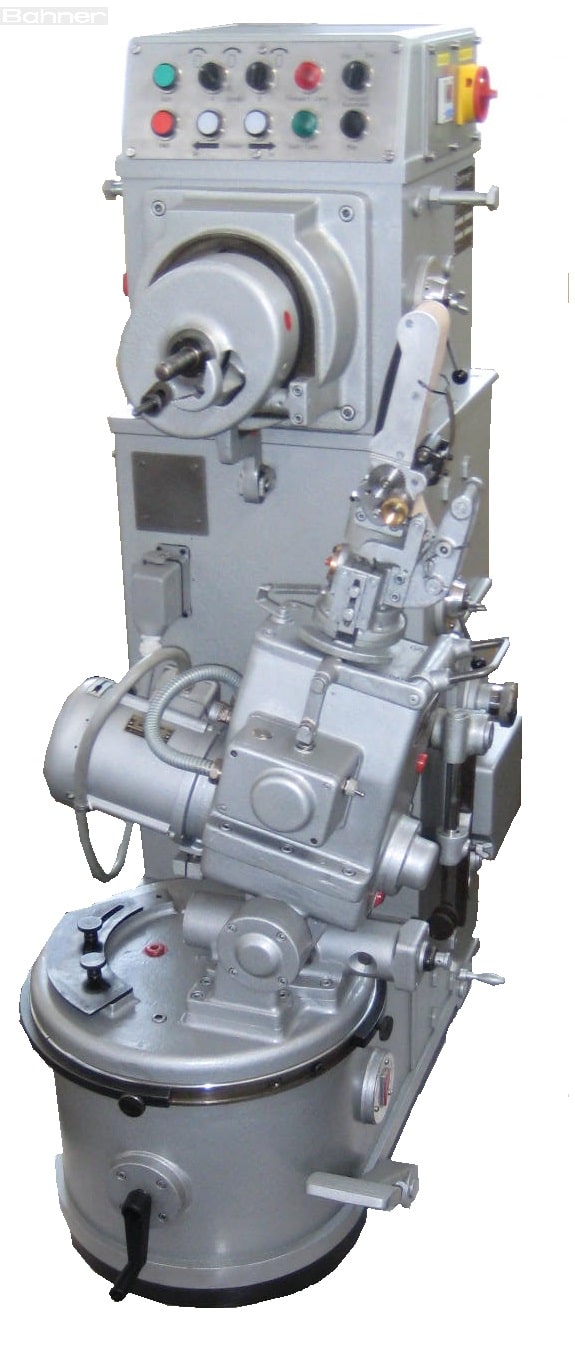 Description of the Finimat System for the automatic treatment of the hat crown
1. Manual work or work with automatic machines
In the broadcast sense of the word manual work is regarded as work in which a person is employed doing some sort of job connected with the entire working operation. For the working operation a mechanically driven tool is used. For example the habitual finishing of hats on velour finishing machines or on fancy finishing machines is, so to speak, manual work. Here, the hat is guided by hand. Such machines are merely tools which are mounted rigidly and driven by a motor. They cannot do any work by themselves.
Automatic machines on the other hand are machines which effectively perform a genuine hob of work and thus largely replace human labour. Automatic machines depend on the continual aid of a workman only in so far as they must be fed with material and be given the order to commence operation. The "real" work however is performed by the machine itself.
The characteristics of manual work are, sorry to say, not very advantageous for industrial production. The quality and output of manual work depend respectively on the individual who performs the work. But even the same person is not able to achieve the same quality and output the whole time. Mental and physical condition, mind and mood as well as will and care exert influence in this sphere. Manual work is thus naturally subject to fluctuating output makes it difficult to record manual work reliable in relationship to cost.
Most operations performed by hand must first be learned. For this instruction and hence instruction personnel are required. With difficult operations it will sometimes take a long time until a result of satisfactory quality is achieved. And only after a certain training period is a satisfactory output rate also achieved. This training couses expenses which can be equated with capital investment.
…
Read more – Data sheet: English
Availability
New | Used Machines Reconditioned * | Used Machines *
Additionally currently in stock:
Head Crown Finishing Machine Bahner Type 341, with attached Linear Tool ZO (341 ZO) – reconditioned
* If there is no clickable link, there is no offer. "New" is always available for order.

Image Galery
(New Machine)