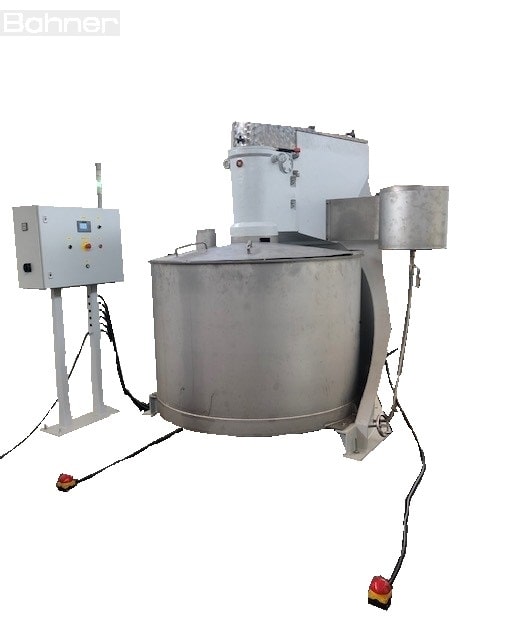 Description of the Open dyeing machine
The Dyeing Apparatus Type 246 for open dyeing is clear constructed and offers a maximum reliability. The machine dyes heavy, tight full hat bodies into final size perfectly and evenly. By the careful treatment of the dyed material only one relatively low relaxation of the felt structure. The friction and reduction of weight from the hat bodies are minimal.
On the sieve bottom the liquid is sucked through the hat bodies. A particulary contrived distributor provides of the fact that the dyed material is evenly turned in a driven speed and is turned simultaneously.
The operator can regulate the intensity of the dyeing process through the choice of low or high speed and to shorten thereby the process time.
Colour concentrate, additives and acid are added from the additional tank of the liquor during the dyeing process. During process, only premixed colour liquid must be added and temperature must be observed, so that an operator can serve serveral machines.
All parts of the machine which get into contact with the colour are made of stainless steel. In connection with the robust design, this results in a long lifetime of machine.
The electric motor for the rotor and for the distributor (coated pipe) is assembled backwards to the machine to avoid contamination by steam. Electric Motor is typically 2 speeds, VFD (Variable Frequency drive) controlled.
The gear case is attached in front of the machine body and can be easily dismantled, if necessary. All gear parts run in an oil bath. The machine is delivered ready for operation.
Course of colouring (example):
put hat bodies into the dye barrel filled with water
heat up water to defined temperature. (acc. to dyeing material)
admit dyeing auxiliary
admit colour concentrate in the colour additional tank and the liquor
bring temperature to the bubble point (due point)
switch on quick speed
add acid
add colouring (nuance) if necessary
switch on slow speed
purging (keep pH factor from 4 to 3,5)
take hat bodies out
…
Read more – Data sheet: English
Availability
New | Used Machines Reconditioned * | Used Machines *
* If there is no clickable link, there is no offer. "New" is always available for order.

Image Galery
(New Machine)