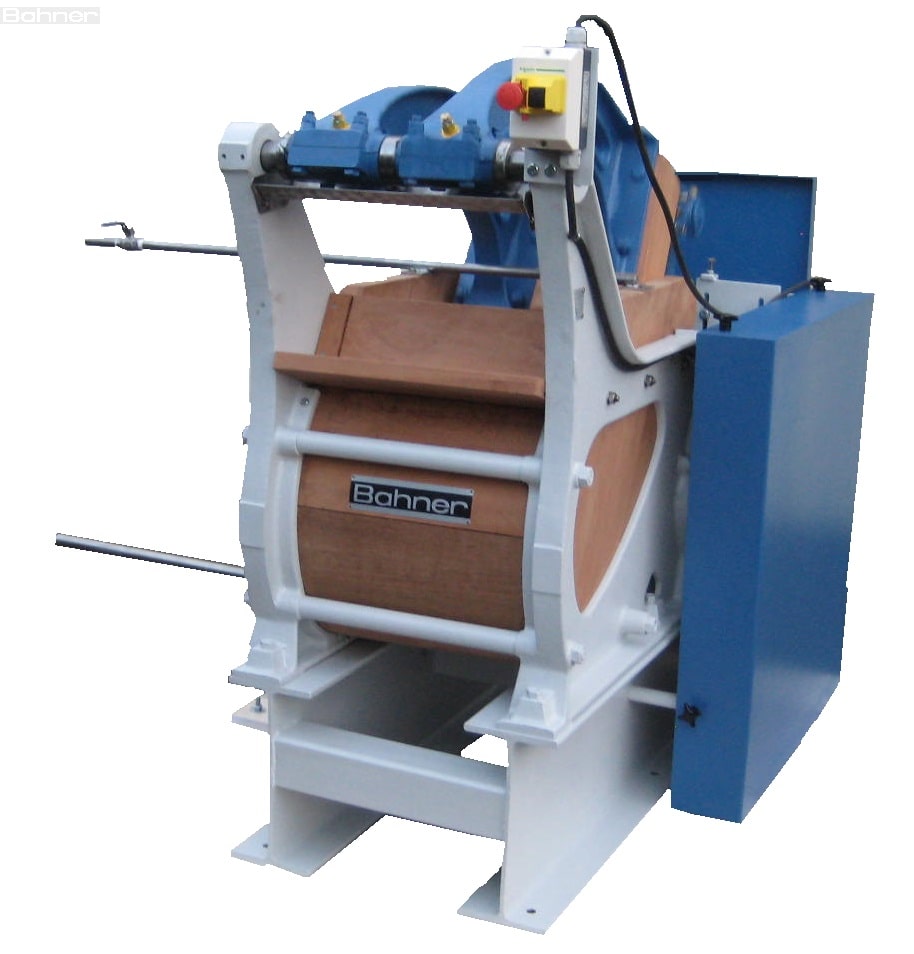 Highlights of the Rammer, Hammer, Bumper, Hammer Machine, Fulling Machine
with
mounted electric motor and V-belt drive
with fulling vat and hammer arms, made of rot-resistant wood
fulling hammer arms, front surface reinforced by synthetic resin plates
safety protection for flywheel, drive and crankshaft
water circulation equipment with centrifugal pump, water tank and piping (as option)
fast and economic fulling operation with a high coefficient of friction
Description of the Rammer, Hammer, Bumper, Hammer Machine, Fulling Machine
The fulling on hammer fulling machine is proved best for the production of wool and fur hat bodies, berets and all other knitted fabrics (clothes, blankets, gloves etc.), for a long time.
The material shrinks 3-dimensional and it is called the non-regulated milling or fulling operation.
The hammer fulling machine works with the well-known milling principle. The fulling result is very regular by the influence of humidity, heat and pressure and egalise the material.
Our hammer fulling machine Type 220 is made in 6 different sizes. For a good fulling result the ratio between volume and surface of the goods is very important. It is optimised in all sizes of hammer fulling machine.
The complete labour costs of the fulling operation are low. During the fulling operation the worker has to control only the humidity and the temperature of the goods.
Preparing the goods for the fulling operation and to smooth them after the fulling operation are easy and quick to be done.
Humidity and temperature of the goods are very important during the fulling operation and decide their final quality. The fulling time depends on the quality of the raw goods, their size, the preceding fulling operation and the final size of the ready goods.
The fulling vat and the two hammer arms are made from hardwood, which is extremely resistant against humidity and use. The hammer arms are covered with front plates made from synthetic resin for a longer lifetime. Anyway, the intensitiy of the fulling operation remains unchangeable. The problems with mould and rips in the wooden parts, although the abrasion in the steps of the hammer arms, are avoided with this combination of wood and synthetic resin.
The lifetime of the wooden parts is much longer than with conventional wood.
On demand we deliver a water circulation equipment, sufficient for up to 2 machines.
…
Read more – Data sheet: English | Español | Deutsch
Availability
New | Used Machines Reconditioned * | Used Machines *
* If there is no clickable link, there is no offer. "New" is always available for order.

Image Galery
(New Machine)