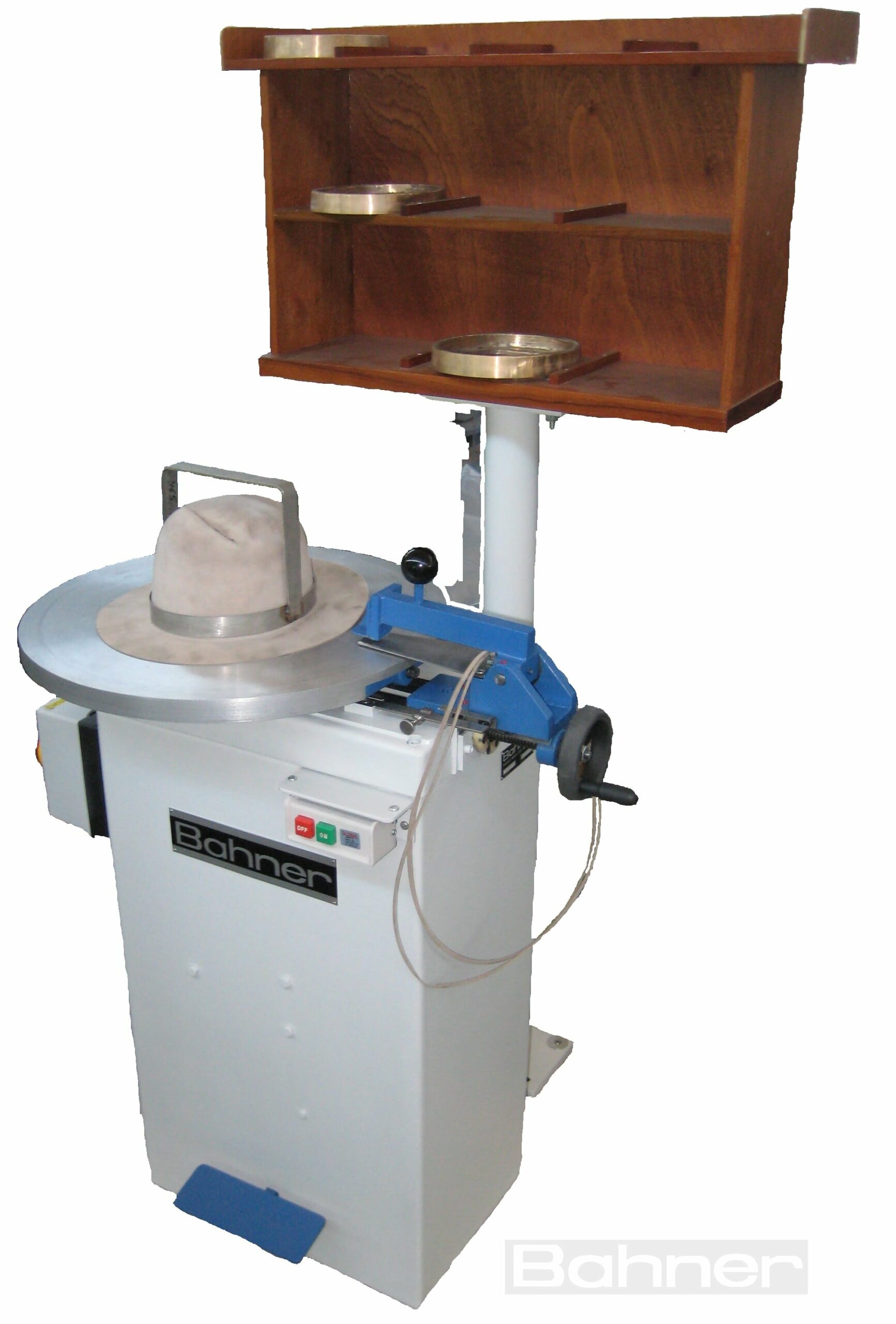 Highlights of the Brim Cutting Machine
with adjustable universal oval tool of 0 to 60 mm of axis difference for the cutting oval.
longitudinal movement of the cut oval compared to hat oval.
cutting of small and round brim ovals with different axis differences and indepentend of the hat oval.
vertical cutter to cut from level to medium strong rounded hat brims.
impulse by three-phase current-clutch motor.
replaceable standard cutting knife
oval rings with clambing rings to fix the hat
Description of the Brim Cutting Machine
To the exact cutting of the hat brims of man`s hats a Brim Cutting Machine should be easy to use, quick to use and be universal. This machine combines all desired qualities in ideal manner. 1. The universal oval tool is able to do also all blade ovals with an oval axis-difference of 0 to 60 mm is adjustable, independent of the band line oval. It can be assigned to a hat with a standard band line oval of 36 mm, an Brim Cutting oval with 40 mm of axis-difference. The hat becomes optically slim, because the hat brim is narrow in the sides looks wider in the front and back.
The desired cutting oval 0 to 60 mm of axis-difference is adjusted in the oval scala.
The zero refrence mark in the oval tool allows to let go any time the machine from the zero stage.
The oval to cut can be posted, compared with the hat oval to the direct axis, so that one, if this wished, can hold the hat brim in front longer and behind shorter, regardless of the cutting oval form itself.
The dimensions to cut are quickly adjustable, and readable on main scale. The changeable width SPO.
Flat hat brims are cut with the vertical cutting equipment.
Easily and moderately bent hat brims are also cut with the vertical-blade-equipment (special tool on request).
…
Read more – Data sheet: English | Deutsch
Availability
New | Used Machines Reconditioned * | Used Machines *
* If there is no clickable link, there is no offer. "New" is always available for order.

Image Galery
(New Machine)