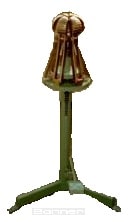 Description of the Crown Opening Machine / Expanding machine for hat bodies and hats
This machine serves for the expansion of the head part of hat bodies, typically used before Pedal Press Type 313. But also with the fitting of small hat bodies to big pedal deep drawing die is it indispensable.
The flat drawing of the upper hat body part is advantageous.
The machine works efficiently, opened the heads and leaves no mark on the felt.
The drawability absorbed hat body is pulled by hand about the crown, is turned and stretched about the foot pedal.
6 attachment parts expand the head width , in addition (optionally).
…
Read more – Data sheet: English
Availability
New | Used Machines Reconditioned * | Used Machines *
* If there is no clickable link, there is no offer. "New" is always available for order.

Image Galery
(New Machine)