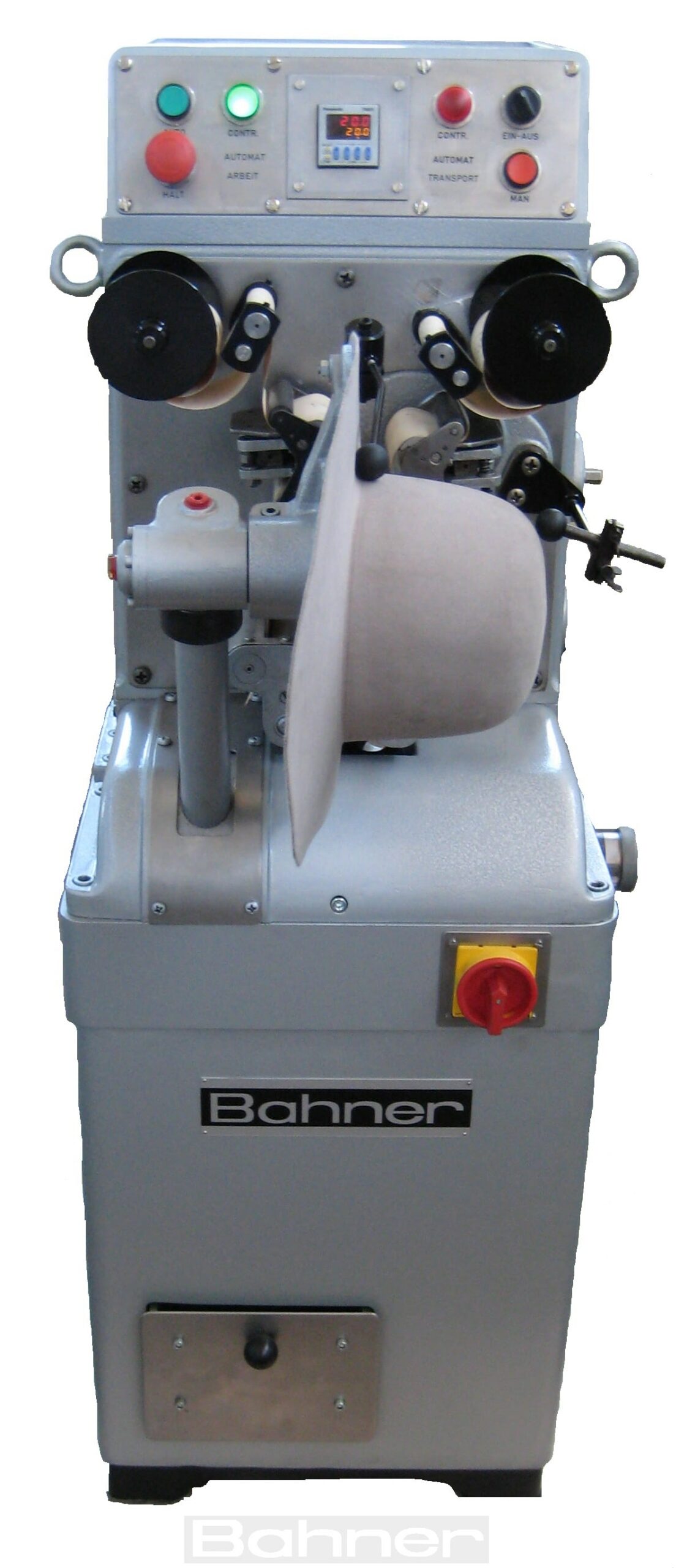 Highlights of the Finimat / Brim finishing machine
with
oscillating pouncing pad – for simultaneous automatic finishing of the surface of upper brim and lower one of gentlemen´s hats and capelines.
Universal operation for pouncing, greasing, ragging, and any finishing.
Best results – highest economy.
Description of the Finimat / Brim finishing machine
What the hatter is interested in
The principle of operation is new: the pads move vertically. So, the finishing surfaces of upper and lower brim are arranged vertically, too. The hat rotates around a horizontal axe. Thus, the same finish of upper and lower brim is guaranteed. The pouncing dust, consisting of ragged felt – mixed with pumice corns – cannot remain on the upper brim, but is swept downwards by the pads. The achieved effect is better because the dust can no longer ruin the felt.
The finish of the brim is effected in the same way as the finish of the crown on the FINIMAT FK 6 Head whose tools operate vertically, too. Hats finished on the FINIMAT FK 6 Head and on the FINIMAT FR 3 Brim have the same fine surface in crown and brim.
The machine works automatically. You need not to guide the hat by hand. You can finish flat brims as well as bent ones. From the exterior border of the brim to the bandline the finish is always equally smooth because the hat moves freely and does not lie on a horizontal plate. Thus, disadvantageous influences are avoided.
Unskilled workers can work on this brim finisher. The hatter needs not train any people. The hats are finished one as fine as the next one, in an automatic way.
After each operation cycle, the pouncing / pumice paper or ragging cloth can be automatically transported an adjustable length which is rapidly adjusted on a scale. The mechanism is exact, is extremely sturdy, and guarantees an equal finish of each hat (full automatic working method).
The paper or cloth is fixed unvariably on the pad and can never glide, so that there cannot be a relative movement between paper and pad. The movement of the pads is wholly transferred to the felt surface, so that the results are better and the finish more efficient.
…
Read more – Data sheet: English
Availability
New | Used Machines Reconditioned * | Used Machines *
* If there is no clickable link, there is no offer. "New" is always available for order.

Image Galery
(New Machine)