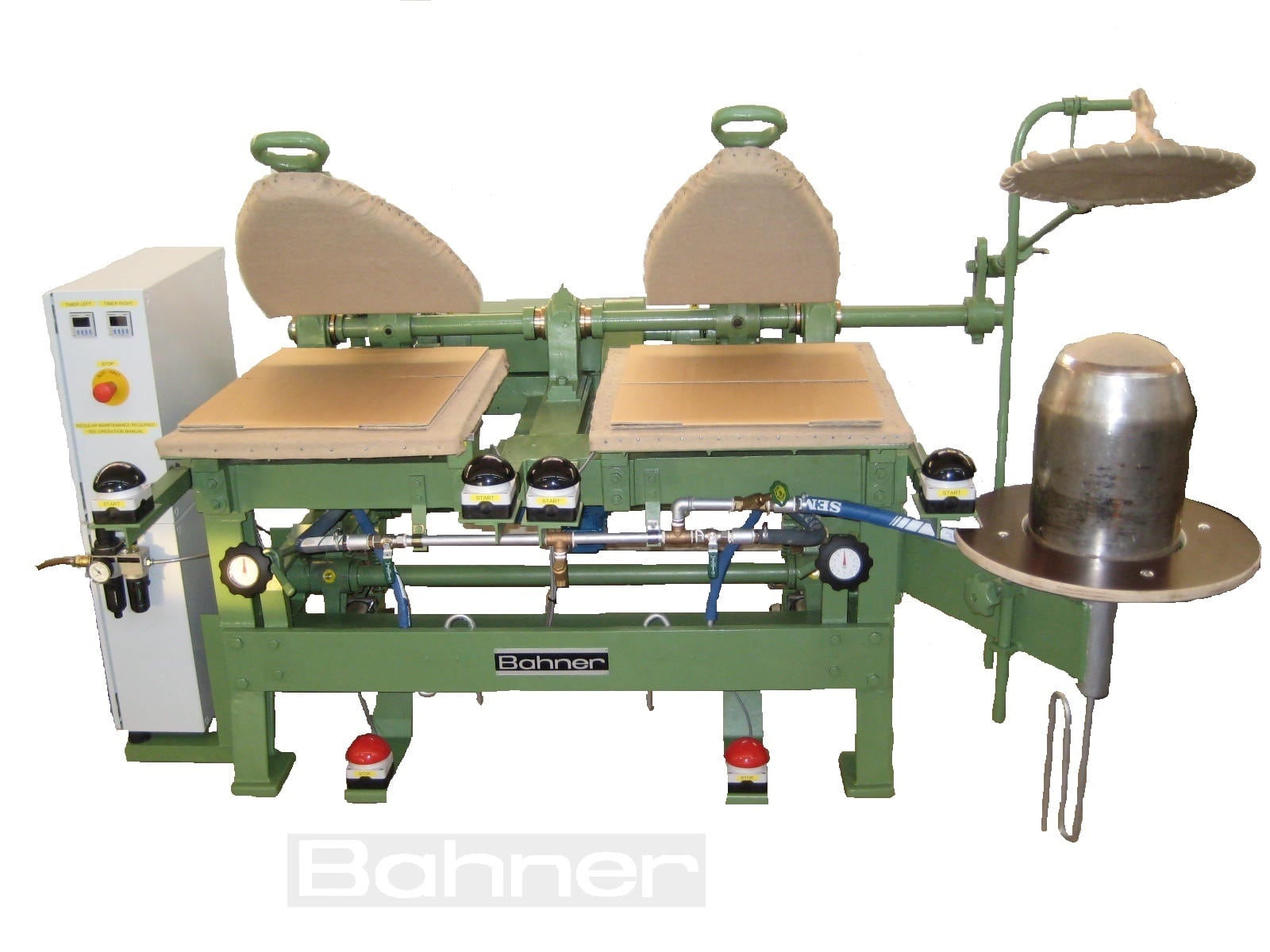 Description of the Plate Hardening Machine
General
We manufacture one type of plate hardening machines:
1) Plate Hardening Machine 5/213 p, Two-Units
With automatic lifting-off device of the upper plates Pneumatically operated, and electronic timing from 5 – 50 seconds
General Design
All plate hardening machines delivered by us are equipped with moving lower and upper plates. The hardening process is highly intensified by this kind of design. The lower plate at the front is running on hard rolls. With the standard design of the machine the lower plates are made of cast iron with a screwed-on brass-plate. It is heated directly with steam. The upper plate is made of light metal or wood. Upper and lower plate as well are covered with twill by the customer.
On the head hardening stand the woolen hat bodies are steamed on the crown and pre-hardened.
The hardening plates at the jigging hinges are borne in extra wide pin bearings.
1) Plate Hardening Machine Two-Units, 5-213 p
With automatic, pneumatically operated lifting-off for the upper plates and with electronic timing from 0 – 120 seconds.
It is often regarded a disadvantage to open and to close the upper plate "OP" of the plate hardening machine by hand. The plate hardening machine with automatic lifting-off for the upper plates gives the unigue & uniform production result.
The lifting of the upper plate "OP" is done with the aid of a pneumatic cylinder over a lever arrangement. The degree of pressure can be adjusted and read on the downsituated adjustment wheel "AH".
The hardening time of 0 -120 seconds – separate for each hardening unit – is chosen as desired and is adjusted on the electronic timers "ZS" (upper part of the switch-box).
For putting the machine into operation, 3-phase alternating current of 220 Volt, 60 cycles or 380 Volt, 50 cycles, steam, and compressed air 6 bar, are required.
This design of the machine has the great advantage that the continual hard handling of the upper plates is avoided for the operator. The plate hardening machine, therefore, can generally be operated by women or men. The operator concentrates solely on the crossing, taking-in, and taking-out of the hat bodies to be hardened.
…
Read more – Data Sheet: English | Español | Deutsch
Availability
New | Used Machines Reconditioned * | Used Machines *
* If there is no clickable link, there is no offer. "New" is always available for order.

Image Galery
(New Machine)