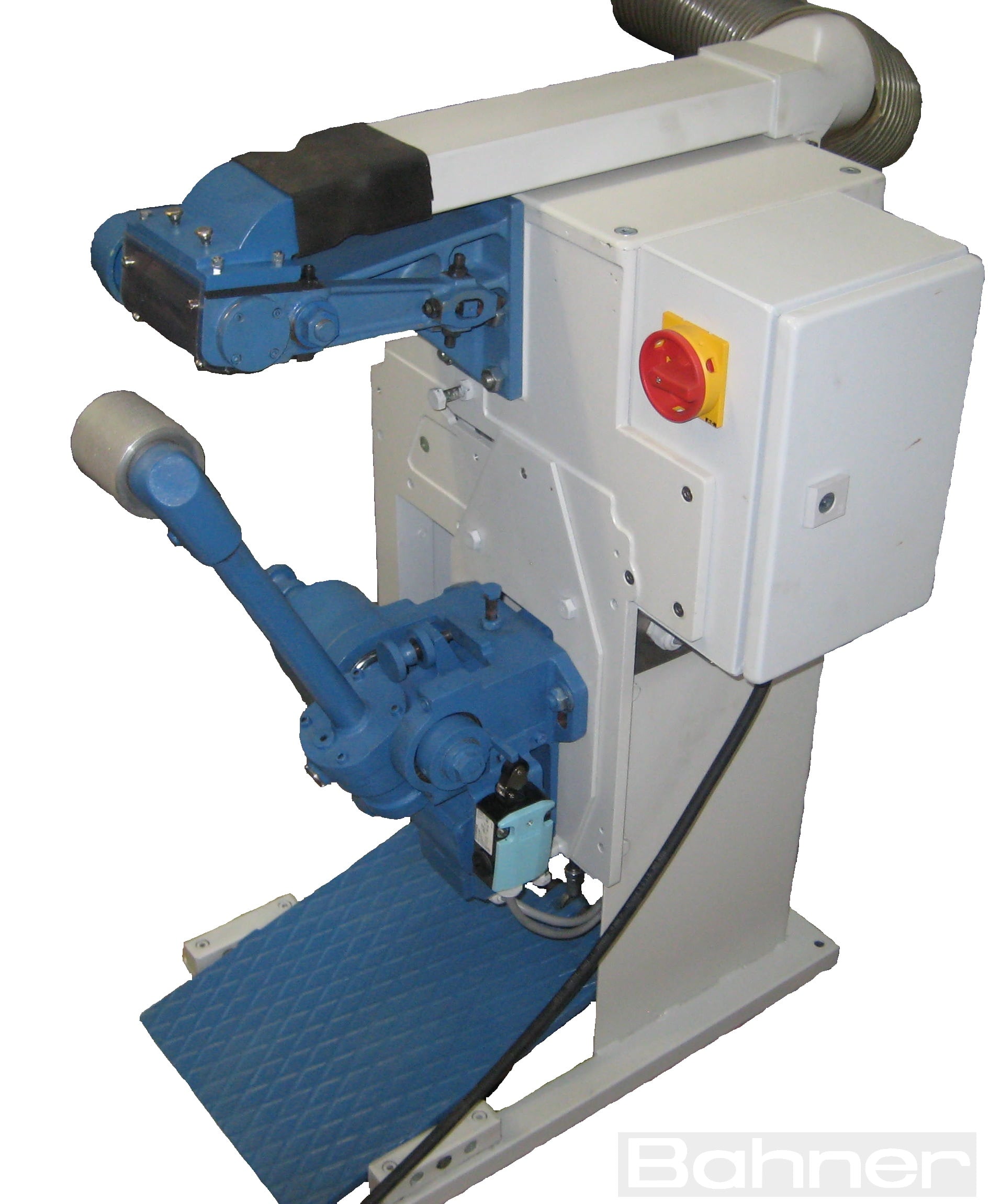 Highlights of the Universal Shearing Machine
Equippable after the modular system with
Shear head with cylinder blade
Shear head for comb shearing of Hauptner
Straight shear arm, right or left
Infinitely variable of adjustable feed role from 20 – 120 Upm
Effective dedusting unit (as option)
Description of the Universal Shearing Machine
With the universal Cylinder Shearing Machine Type 2-404 can be manufactured all longhair qualities, like melousine, short velour and other rough hair surfaces, by all usual cut heights perfectly. This is valid for ready formed hats just as for hat bodies. The labour costs care are held by the choice of the Shear tools, the swivel arm and the optional feed speed low.
The universal cylinder shearing machine can be equipped with three different shear heads: • Cylinder Shear blade • Comb scissors Fabrikat Hauptner
Cylinder shear blades are used primarily for hat bodies and easy hat forms. For ready hats by difficult forms man uses as a rule comb scissors. Moving of a shear system causes on the other hand no difficulties and be carried out simply and in short time.
The best cut picture is reached from shear heads with cylinder blade. It is to be followed, on this occasion that a strong dedusting must exist. The hair before the shear blade should be put up by the suction. At the same time the cut-off hair is led away completely. The cylinder shearing equippment works for a long period (approx. 6 weeks to 6 month) without necessity to be resharpened. A completely steady shear surface is quickly accessible. The desired pole or cut height is put by putting under of passes away high distance records. The feed role is aimed to die distance records. With a cylinder shear blade all seeming cutting heights can be clipped (from 0,5 – 10 mm / 0,02 – 04 inch).
By the comb shear tools the desired cut height is reached by starting passed away of strong shear combs. It is disadvantageous that the cut height decreases by the frequent sharpnesses. The Shear speed is relatively slow. By the necessary oils of the shear combs the danger of the spor education exists. The state time of the shear combs lies with about 4 – 12 hours. The shear combs are easy and quick exchanging.
…
Read more – Data sheet: English | Deutsch
Availability
New | Used Machines Reconditioned * | Used Machines *
* If there is no clickable link, there is no offer. "New" is always available for order.

Image Galery
(New Machine)