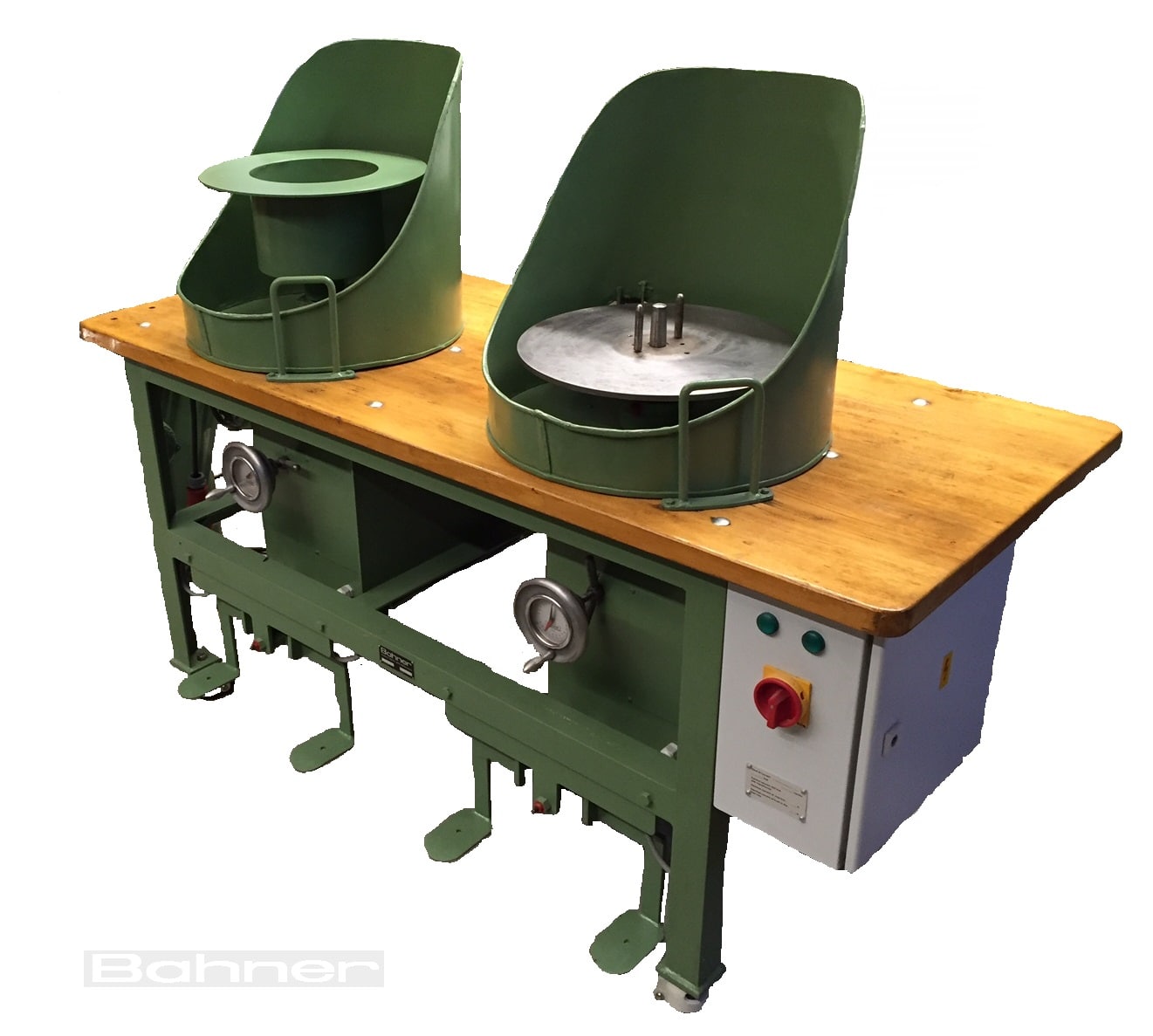 Description of the Universal touring machine
With stepless adjustment of number of rotation
This machine has been newly designed for the purpose of being able to do all occuring kinds of touring work with just one basic machine. Individual machine elements are interchangeable. The machine works with stepless adjustment of the number of rotations and practically does not require any maintenance on account of it´s strong construction. It can be used universally.
I. Design of Spindle
The nose of the spindle can be delivered optionally in 3 different shapes.
With conical cord thread and hand wheel (mostly used with horizontal touring machines for the taking up of wooden blocks.
With inserted conical pin and plate (3 sizes of plates) A. Running clockwise and counter-clockwise (velour touring machine) B. Running clockwise and counter-clockwise (velour touring machine)
With cylindrical thread and flange bearings.
II. Electrical Fittings
With standard handle switch: The machine is only switched on and off. Direction of rotation only to one side. For use with lying touring machines (with horizontal shaft) and up-right touring machines (with vertical shaft, ragging touring machines).
With handle turn-switch The direction of rotation can be reversed with the turn-switch. Direction of rotation possible to both sides. Usable for touring machines, where occasionally touring work is to be done to both sides. For use with lying touring machines with horizontal shaft and upright touring machines with vertical shaft. Also for machines on which touring work mostly to one side is being done, but where for certain kinds of touring work also the other direction of rotation is required.


Advantage


The machine runs in the desired direction of rotation without having to hold or to operate a switching element all the time. The operator is completely free for operating. He can also leave the machine.


Disadvantage


If the direction of rotation is changed often, then the switching of the hand switch or hand turn-switch has to be done by hand. The frequency of switching is technically limited.


Use


Only recommended for machines with lying (horizontal shaft, or ragging touring machines with upright (vertical) shaft.
…
Read more – Data sheet: English
Availability
New | Used Machines Reconditioned * | Used Machines *
* If there is no clickable link, there is no offer. "New" is always available for order.

Image Galery
(New Machine)