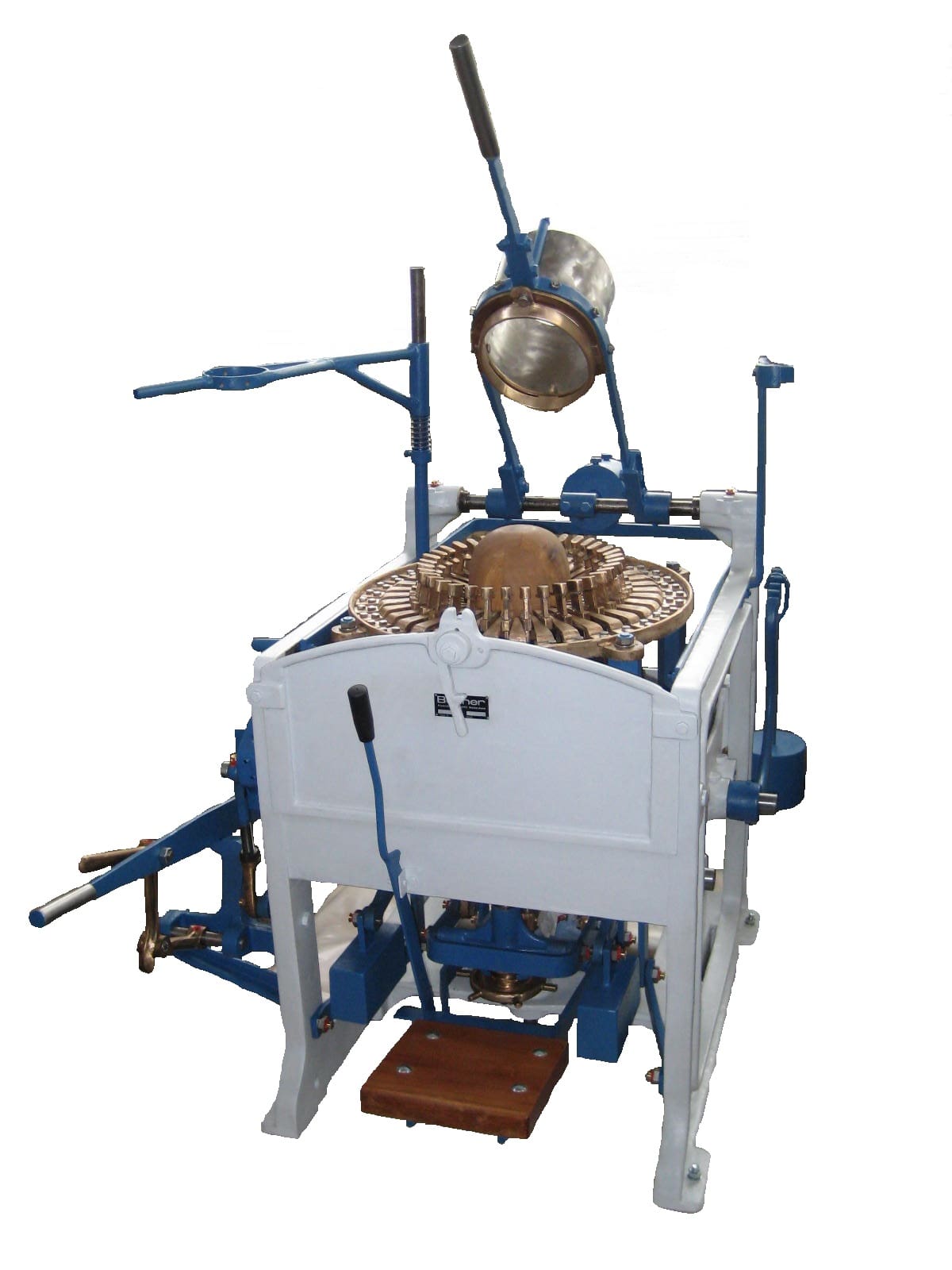 Description of the Wet Blocking Machine, Capelineer Machine
On this machine, head and crown the head and edge of hat bodies from rabbit and "haar "hair in the wet procedure. It is stable and built solidly and has proved itself very well. On their margin widths can be processed up to 400 mm. Included are 9 pieces oval rings for the hat size 53 to 61 and a pivoting shower (or, on request, a shower with drawbar). The machine has 36 clambs, that hold the brim on all sides. The hat is formed with a consisting of 36 disc expanding head.
This machine has an expander head which can be put on all sizes.
Operating method
The hat is inserted into the machine with the head up and clamped on all sides using the lever "A "on the Brim with 36 clambs "K ". Then, it is stretched by means of the foot pedal "B" on the Brim outward evenly. The disc head is lifted by means of the lever "C" in the right position and stretched by releasing the lever "G" on the head wide length.
In this manner the head is exclaimed upwards. With the help of the lever "D" the band set ring "U", which is quickly replaceable, put down on the hat and is bolted by the bolt "E". In this way the band set is formed. By pivoting the pivoting shower "F" (or by pulling the chain for the shower device) the hot hat is showered with tap water. On request cooling process can be carried out with compressed air.
Therefore the shower is to be connected to a normal water line (also the water tank at a shower device with pull chain). Now the handles are performed in back traveling sequence and removed the molded hat.
…
Read more – Data sheet: English | Español | Deutsch
Availability
New | Used Machines Reconditioned * | Used Machines *
* If there is no clickable link, there is no offer. "New" is always available for order.

Image Galery
(New Machine)